Who we are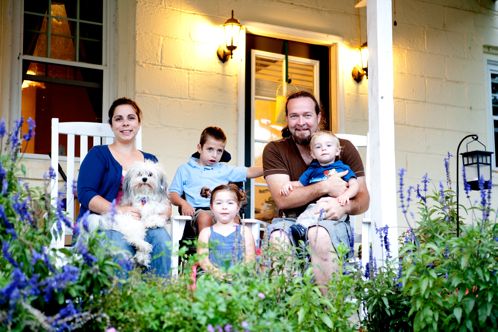 We are a family of 5. Â I run an advertising agency for my real job, and I am building a castle every other spare minute. My dad was a general contractor when I was growing up and I spent summers, weekends and pretty much every other spare moment working with him 'til I finished undergrad. So I am no stranger to building a house. A castle? Now that's a different story; having trouble finding anyone who's an expert in that field. Time travel anyone????
My wife and I drew the first plans and created a model for the castle back in 96, and it has been evolving ever since.
The original footprint hasn't changed much, but we have went around and around on the floorplan.
The main things we want present in this build:
Authentic Appearance (no facades). If it's on the house it must be functional.
No flimsy materials. Â (you won't find an ounce of stucco/styrofoam on our castle exterior anywhere)
As true to old world craftsmanship as is reasonably possible, without compromising on energy efficiency.
Longevity (We want this house to be around for hundreds of years.)
Fun (we want this house to be a fun place for our kids, and for entertaining)
Energy efficient
Flat roof
Open sharing (we want to share what we learn on this project to help others accomplish their goals, no matter how grandiose)
ABOUT
an open (owner build) project
December 2023
S
M
T
W
T
F
S
1
2
3
4
5
6
7
8
9
10
11
12
13
14
15
16
17
18
19
20
21
22
23
24
25
26
27
28
29
30
31
>